Interpreting a lateral flow SARS-CoV-2 antigen test
19/07/2021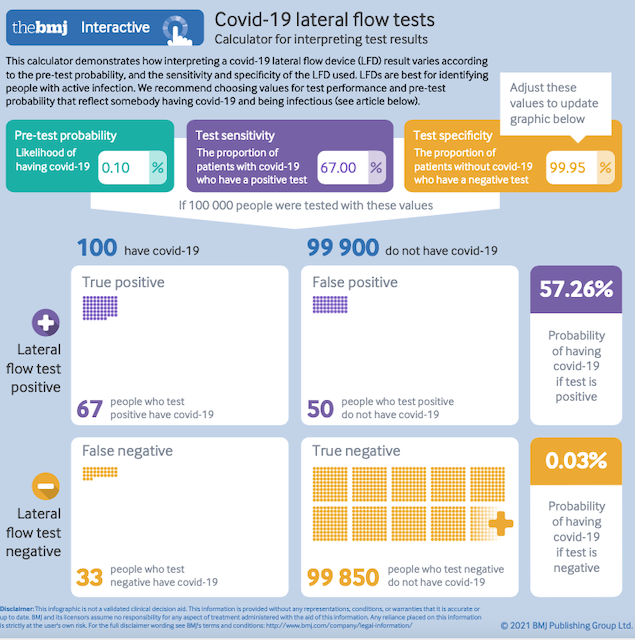 The risks and benefits of using LFDs for widespread testing of asymptomatic people are the subject of ongoing uncertainty and debate. 
This practice pointer considers how to interpret and communicate results from LFD tests based on our current understanding of the tests' performance.
What you need to know
The positive predictive value of a positive lateral flow device (LFD) test depends on the underlying likelihood of disease

When the disease incidence is low, a positive result should be validated by a polymerase chain reaction (PCR) test. However, if your clinical opinion is that covid-19 is likely, then a positive test is likely to be reliable

LFD testing is not recommended when the person has symptoms of covid-19, as a negative LFD is not sufficient to rule out covid-19

If a symptomatic patient informs you that they have had a negative covid-19 test, check what type of test was done

If covid-19 is clinically suspected, a PCR test is recommended, even if the patient has received a negative result from a recent LFD test
A calculator is provided to demonstrate how interpreting a covid-19 lateral flow device (LFD) result varies according to the pre-test probability, and the sensitivity and specificity of the LFD used. LFDs are best for identifying people with active infection.
Documenti allegati