Don't miss the upcoming ISLH January Webinar!
31/12/2022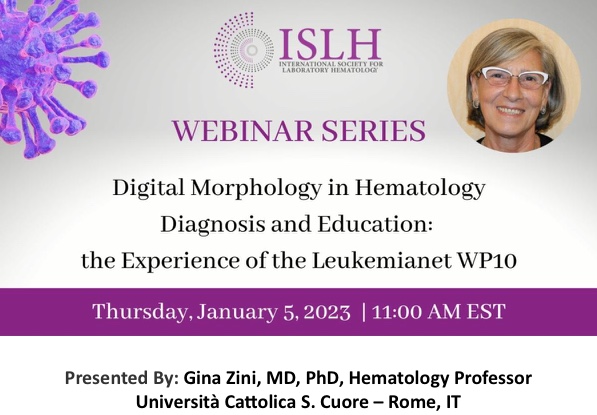 On Thursday, January 5th, 2023  the International Society for Laboratory Hematology will host the next webinar in the e-Learning series: "Digital Morphology in Hematology Diagnosis and Education: the Experience of the Leukemianet WP10".
The webinar will be held by Gina Zini, Hematology Professor Università Cattolica del Sacro Cuore, Rome, Italy.
Learning Objectives:
Systematize the cornerstones of a decision-making process under the optical microscope
Evaluate the advantages of the Digital Morphology
Be informed about the state of the art of the applications of DM in hematology
Evaluate the results of twelve years of DM use within the ELNWP10 activities
All webinars will begin promptly at 11:00 AM Eastern Time US and are approximately 50 minutes long. There is no charge to participate in the live webinar.
We look forward to your participation in this event! 
Notizie collegate