Don't miss the upcoming ISLH April Webinar!
10/04/2023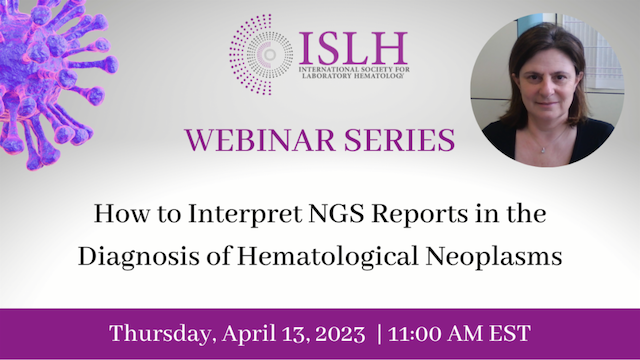 On Thursday, April 13th, 2023  the International Society for Laboratory Hematology will host the next webinar in the e-Learning series: "How to Interpret NGS Reports in the Diagnosis of Hematological Neoplasms".
The webinar will be held by Prof. Patrizia Chiusolo, Hematology Department, Fondazione Policlinico Universitario Agostino Gemelli IRCCS, Roma - Italy.
Next-generation sequencing (NGS) for the detection of somatic variants is being used in a variety of molecular oncology applications and scenarios including hematological malignancies.
A targeted NGS approach has a great advantage for detection of multiple somatic alterations using a single platform which may be customized for every single tumour.
The informations generated by targeted gene panels may be helpful in diagnostic classification, guide therapeutic decisions, and/or provide prognostic insights for a particular tumor. However, this new method is challenging and requires thorough analytical validation to ensure the high quality of sequencing results.
Learning Objectives:
Define the basis of NGS
Explain the difference between whole-genome sequencing, whole exome sequencing and hot spot panels and identify the best option for clinical application
How to interpret mutations
All webinars will begin promptly at 11:00 AM Eastern Time US and are approximately 50 minutes long. There is no charge to participate in the live webinar.
We look forward to your participation in this event! 
Notizie collegate