Don't miss the upcoming ISLH February Webinar!
09/02/2023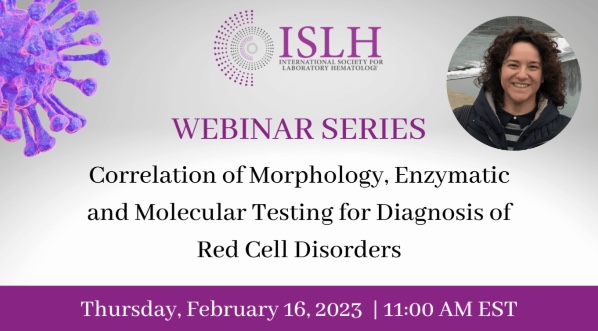 On Thursday, February 16th, 2023 the International Society for Laboratory Hematology will host the next webinar in the e-Learning series: "Correlation of morphology, enzymatic and molecular testing for diagnosis of red cell disorders".
The webinar will be held by Roberta Russo, PhD, Assistant Professor of Medical Genetics, Department of Molecular Medicine and Medical Biotechnology, University of Naples Federico II, CEINGE - Biotecnologie Avanzate, Italy.
Hereditary red blood cell (RBC) defects are a relatively heterogeneous group of disorders with rare to low frequency that is characterized by complex genotype-phenotype correlations. Currently, more than 70 genes involved in erythrocyte physiology have been identified as causative of RBC defects to date. Genetic and clinical heterogeneity of RBC defects underlines the problem of a very complex differential diagnosis.
The presentation will provide an overview of the conventional and current workflow for the diagnosis of hereditary red blood cell defects, focusing on the advantages and limits of genetic testing for these disorders.
Learning Objectives:
To understand the methods for differential diagnosis, classification, and patient stratification among red cell disorders
To understand the usefulness of NGS-based diagnosis for differential diagnosis of red cell disorders
To understand the problem of complex modes of inheritance in hereditary red blood cell disorders
All webinars will begin promptly at 11:00 AM Eastern Time US and are approximately 50 minutes long. There is no charge to participate in the live webinar.
We look forward to your participation in this event! 
Notizie collegate