ISLH December Webinar
05/12/2022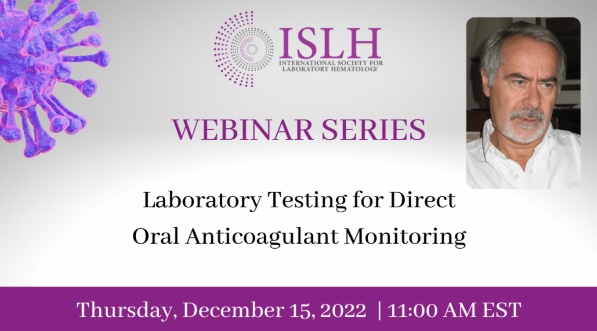 On Thursday, December 17th, 2022  the International Society for Laboratory Hematology will host the next webinar in the e-Learning series: "Laboratory Testing for Direct Oral Anticoagulant Monitoring".
The webinar will be held by Armando Tripodi, IRCCS Ca' Granda Maggiore Hospital Foundation, Angelo Bianchi Bonomi Hemophilia and Thrombosis Center, Milano, Italy.
Although direct oral anticoagulants (DOAC) do not require dose-adjustment based on laboratory testing, the measurement of their anticoagulant effect (concentration) is useful in special situations such as before surgical/invasive procedures, thrombolytic therapy in stroke patients, during adverse (thrombotic or hemorrhagic) events, suspected over-anticoagulation, use of antidotes, use of additional drugs or extreme body weights.
The seminar is aimed at providing guidance on which tests should be used and the situations in which testing is useful. The guidance is based on the data from the literature so far available and/or consensus among experts.
Learning Objectives:
Types and characteristics of direct oral anticoagulants
Need for monitoring (dose-adjustment)
Situations where measurement of plasma concentration is needed
The value of the traditional tests of coagulation and need for dedicated tests
Type of testing
All webinars will begin promptly at 11:00 AM Eastern Time US and are approximately 50 minutes long. There is no charge to participate in the live webinar.
We look forward to your participation in this event! 
Notizie collegate